I attended the 3rd Annual Cannabis Capital Conference hosted by Benzinga and SmallCap Power Stocks in Toronto this past week. This was my 3rd CCC in Toronto and this year was as informative and exciting as my first. There were some 750 attendees, 3x the amount that attended in 2016, and most were in proper business attire, ie sport jackets and ties. Except for Dan Bilzarian who showed up ready for the beach in a bathing suit and t-shirt!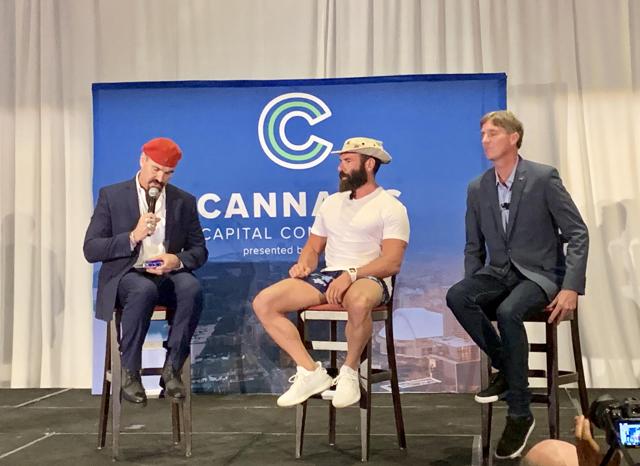 During the first panel session appropriately named "Pivoting From Canada to the US and Beyond" I heard the most exciting and actionable information of the entire conference. Richard Carleton, CEO of the Canadian Securities Exchange, was answering a question about where he sees the capital flows going and his answer made me grab my pen and pad. "There's a generational opportunity about to happen" when the STATES Act passes, which he believes eventually will, the valuation gap between Canadian LP's and the US Multi State Operators WILL narrow/close, and that will happen with the US MSO's rising in valuation by 2-5X, thats 200%-500%, and he thinks that could be conservative because the Canadian LP's have already come down considerably from the highs reached in mid 2018.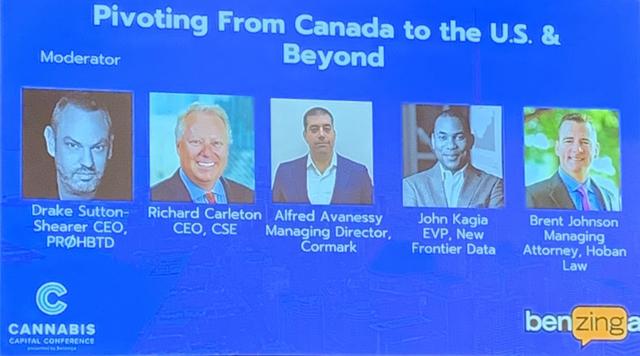 Anyone following the Canadian LP's over the last year has seen the incredible rise in valuation for these companies. Business metrics aside, the market and investors are giving incredible credibility and faith in what is emerging and what is being built. And while those valuations have gyrated alot, they remain very high and have little to do with current revenues or earnings.
I am sure many of you reading this feel like you missed the big move in the Canadian LP's. Before the stocks jumped hundreds of percent, acting more like bitcoin than businesses, the valuations were high and many had little or no revenues. Many were raising capital to get the Licneses and start their businesses. Regardless, they were able to attract investors and raise significant amounts of capital at ever higher valuations.
Many of the private Canadian LP's were first going public, some on the US exchanges, and ALL of them went up, some much more than others but all the gains were measured in multiples of their original price.
If you invested in these companies prior to 2017 you have made a fortune. Much of that was made when Canada went to full legalization and changed the game. Carleton sees the same thing happening in the US with the Multi State Operators when the STATES Act passes.
A caveat here, while I believe strongly in the thesis Carleton put forth, it will not be straight up, it will be volatile, and many of the companies that become today's favorites may not exist in 5 years, either due to consolidation or failure.
The Cannabis industry and its constituents will face the same successes and failures as many industries birthed before it. Most recently technology and the internet. We all remember MySpace and Blackberry, once the investor darlings and most highly sought after properties in social media and cellular phones…they are gone.
I won't dare make individual recommendations in this piece, I will just say that I expect to see the same types of gains in the US MSO's that was seen in the Canadian LP's.
Unlike in 2016 when Wall Street analysts referred to the Cannabis industry as the Marijuana industry and its players as cultivators of pot or weed, today major brokerage houses including Morgan Stanley, Jeffries, Canaccord Genuity, and most recently Merrill Lynch ALL cover the industry and have favorable research notes on many of the players.
I found the Merrill note to be very insightful, including the name "A Cannabis World…and more people are living in it". The link is here.
https://www.google.com/url?sa=i&rct=j&q=&esrc=s&source=images&cd=&cad=rja&uact=8&ved=2ahUKEwiIr4PTk9_hAhVCp1kKHaZFDW0QjRx6BAgBEAU&url=https%3A%2F%2Fwww.docdroid.net%2FWZeFS5z%2Fa-cannabis-world.pdf&psig=AOvVaw0HZA8kKvhN75dFSa7q8otg&ust=1555866265152928
I will leave you with the report to read through, there's a few ideas in there to choose from. Good luck.